A documentary
about your life.
Every life is a story which deserved to be told.
We are all used to see documentaries about artists, scientists, politicians or revolutionaries. What if you could watch one about your grandmother, your spouse or your best friend?
Life is full of adventures, conflicts, lessons to share and we believe every one has a story worth documenting.
"When an old man dies, a library burns to the ground." This is an old African proverb. What better way to preserve one's memory than capturing his story into a custom-made documentary.
Obviously, we're not going to charge the cost
of a Netflix documentary. It is affordable
for everyone without compromising on the quality.
We are not making a feature length movie here but a lot can be shared in a 5 to 10 minutes documentary. Custom length are possible too.
The hero of the documentary (i.e your mother) simply talks face to camera. In addition, we can interview other members of someone's life (i.e family, friends), relevant to the person. A small crew (1 or 2) will come to record at your home or any locations that reinforce the story.
We live in a day and age where photos /videos are taken all the time by our friends and relatives. Chances are they have captured great moments. If we think it can help the documentary, we might ask if you can gather some specific footage on social media, phones etc.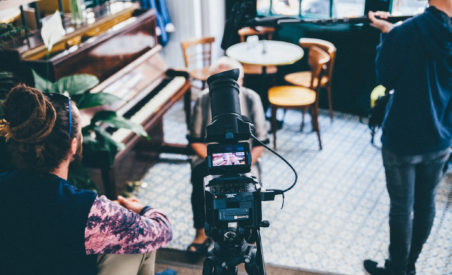 Everyone has photos and videos about their childhood, wedding, children, travels etc. This is gold for us as we will record them in camera or digitize them to be used in the documentary.
"When an old man dies, a library burns to the ground."
Some ideas of documentaries
Old generation documentary
We've all been surprised to hear an amazing life story from our grand parents and realised how little we know about them. You may discover your grandmother had an incredible life you never knew.
What if we could see a documentary about key moments of their life. What a great gift it would be for the family, especially the younger generations.
From small business owners, food stores, craftspersons to large companies, every business has a fascinating story.
What if you could invite your customers to know more about your process, how you started and your journey so far?
The most valuable currency in the universe is Time. All the money in the world can't buy you more of it, and the past is gone forever.
But you can freeze some moment.
What if you could relive a great moment of your life through a documentary style video? Think of a wedding video but about any moment you want to see immortalised.
All documentaries are different, but most of our offer will include:
A small team will come to interview the hero of the documentary and capture other footage such as old photos. It can be two half day shoots or a few hours spread along a few days for a total of 8 hours.
Once all the footage and interviews are collected, we put everything together to create a coherent and narrative driven video. The music is included and will play and important role to guide the emotional ride.
You will receive a 5 to 10 minutes documentary in Full HD. We believe that 5 minutes is the minimum time to convey enough information and emotion. Custom length are possible too.