Detailed pre-production can save you a great deal of time and money and is critical to the success of every production.
Today we are going to go over the possible steps
involved in
PRE-PRODUCTION and the importance of planning
After we have a clear understanding of the scope of your project, we develop a
CREATIVE BRIEF
that will detail the
WHO, WHAT, WHERE, WHEN, and
HOW 
of your production. 
WHO will be involved? 
We can coach you or your staff how to present to camera or we can cast and hire actors. We can hire contractors, hair and make-up, stylists,  or voice over artists.
WHAT
is your story or message?
We can work with you to create a script, storyboard and shot list to help clarify and visualise your production.
WHERE
will your production take place?
We can hire studios, scout locations, and secure permits.  Scouting a location is imperative to ensure the suitability of a location for shooting and crew management. 
WHEN will your production take place? Is your production and creative concept weather dependent? Do you have a specific deadline? This will all be determined in the project timeline.
HOW
will your creative concept be brought to life?  This will involve a detailed
TREATMENT
on everything from lighting details, camera angles, props to styling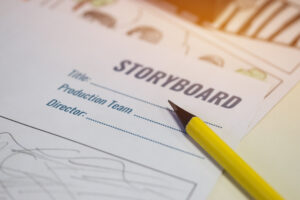 Great pre-production lays the foundations for a smooth production day and as the production manager, I don't leave anything to chance. 
And as a nimble boutique production company, we are able to keep costs under control and your production running on time while providing a captivating, on brand video, animation, or photo for your business.


In our next video we will go into
WHAT TO EXPECT ON THE DAY OF YOUR PRODUCTION
And you can reach out to us today to see how we can manage your next project.